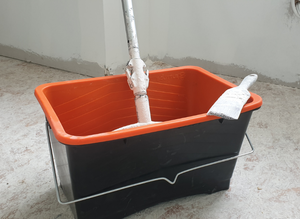 Welcome to our website
The home of the reusable, flexible and easy to clean scuttle & kettle liners.
Years of working in the painting and decorating trade brought on the invention of the flexible, reusable scuttle & kettle liners. Tired of throwing scuttles away because paint had built up and was difficult to remove or paint flaking off whilst in use and leaving snots in your paint work, we set about finding a solution. We created the felxible, reusabel and easy to clean liners, they easily fit in any size sink to clean out or better still, the paint can be left to dry over night and simply scrunched up the next day and th epaint just flakes off leaving a brand new liner ready to use again.